Merced County Tobacco Control Program (MCTCP)
The MCTCP works with youth from across Merced County who form part of "Advocates Countering Tobacco In Our Neighborhoods" Youth Advisory Board (ACTION Youth Advisory Board).
The Merced County Tobacco Control Program has three active youth groups in the cities of Merced, Atwater and Los Banos where ACTION members are an essential part of program initiatives. ACTION members serve all of Merced County by providing health education and efforts towards policies in several Central Valley Communities.  MCTCP empowers ACTION members and gives these youth advocates a platform to develop various skills, while working together and having fun serving the community. Youth participants also have the chance to participate in statewide and local activities like community events, Youth Quest and the Youth Leadership Summit, where they get a chance to meet and educate state and local officials on the latest trends.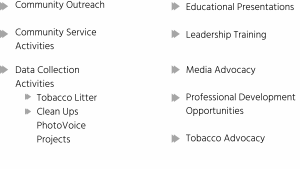 Youtube Mini-Series 
Membership
Qualifications
All youth members must be:
13-18 years old (High School)
Residents of Merced County
Passionate about wanting to make a difference in their community
Members are encourages to obtain good academic standing (2.5 or higher)
Responsibilities
Attend and participate in ACTION Youth Advisory Board meetings
help plan countywide activities and campaigns
stay in communication with Merced County Tobacco Control Program staff via email, phone, web or social media
Incentives
Opportunities to develop leadership and advocacy skills
Opportunities to strengthen your public speaking and communication skills
Opportunities of increasing knowledge of tobacco and emerging product issues
Opportunity to  meet and work with youth from across the Central Valley & California
Opportunity to work with local, county and state elected officials
Opportunity to attend the Youth Leadership Summit at the end of the year
Opportunity to attend the annual Youth Quest trip to Sacramento
Letters of recommendation
End of the year activities and incentives
Snacks at each meeting
Mentoring and guidance by MCTCP staff
How to become a part of the ACTION Youth Advisory Board
Interested in joining the ACTION YAB? Please fill out the form below. If you have any questions, feel free to contact our Youth Coordinator: Patrik White